*** This post was originally published on in 2010 & 2011.   It has been edited each year to add some additional activities that I found for this month. ***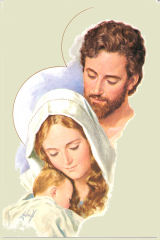 February is devoted to the Holy Family. This devotion to the Holy Family of Jesus, Mary & Joseph has been hailed as the model of virtue for Christian Families since the 1600′s. Jesus spent his first 30 years before his ministry began taking part in his family life because it was so important. As always, there are several good prayers to add your prayer routine for the month.
For the Protection of the Holy Family

Grant unto us, Lord Jesus, ever to follow the example of Thy holy Family, that in the hour of our death Thy glorious Virgin Mother together with blessed Joseph may come to meet us and we may be worthily received by Thee into everlasting dwellings: who livest and reignest world without end. Amen.
There are also several more prayers for use this month available at About.com's Catholicism section. You can also find a lot more information about the history and devotion to the Holy Family at Catholic Culture.org.
Crafts
Easy and Cute Felt & Clothespin Holy Family Craft @ CatholicMom.com
A Holy Family Stamp Collection
Variety of Coloring Pages and Printable Images of the Holy Family in the Christmas Happy Saints e-book ($9.90 as of 2/5/14)
Recipes & Food
I also found Recipes for February Feast Days at Catholic Cuisine.   Since it's the month of the Holy Family, try gathering for family meals if you do not already do so.   February is a pretty slow month, at least up north, so it might be a good time to try to build that habit.
How do you honor the Holy Family?