Disclaimer: I received a copy of the items mentioned in exchange for an honest review.

I LOVED chemistry in high school.  In fact, I'm still a little peeved that the admissions counselor talked me out of the regular chemistry class in college :).   Add that to the fact that my K/1 cannot get enough of experiments and I practically begged to be a part of the review for the newest release from Apologia Educational Ministries.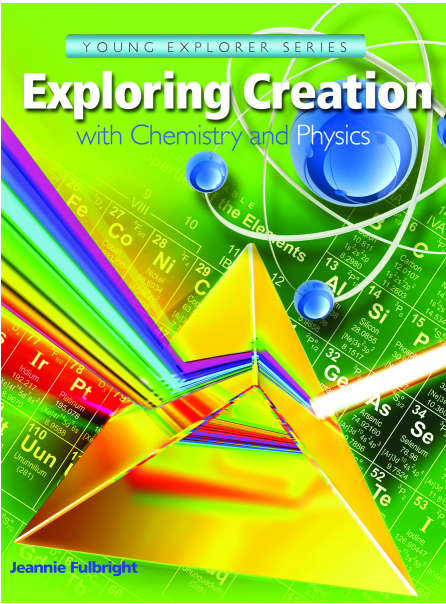 Apologia is well known for writing excellent science texts from a creationist/Christian point of view.  Exploring Creation with Chemistry and Physics covers both physics & chemistry for elementary students from Kindergarten through 6th grade.  It has a whole different look than the Flying Creatures book I reviewed in January.  It is the same quality hardcover, but the inside is much more visually attractive.  There are colorful graphics on the pages and experiments are set apart in colored boxes.
In addition to receiving a copy of the textbook, I also received a copy of the Exploring Creation with Chemistry and Physics Junior Notebooking Journal.  The junior notebook contains two coloring pictures, copywork, pages to document what you've learned and more for each chapter.  It also includes a 2 day a week plan for both the text & junior notebook, which have a bit of a Charlotte Mason feel to them. The text is $39.00 & the junior notebooking journal is $24.00.
Likes & Dislikes
Now that I've reviewed two Apologia textbooks, I have a really good idea of how they work.  First of all, the schedule in the Junior Notebooking Journal is too aggressive for the younger end of the age spectrum, in my opinion.   My intent was to follow the plan in the junior journal but it was too much for a 5 year old.  In order to make it more manageable for my K/1 student, we spread out the week's assignments over 4 days.
The other modification that we made for our younger student was to more evenly disburse the notebooking pages that are mostly assigned for week 2, day 4.  At the younger end of the spectrum, it's just too much recall and too much writing for children just learning to write.  We used the pages in the journal to recall what we read & did the day before — some illustrated, some written simply & some dictated to me.
The last thing to note about apologia books in general is that they are VERY detailed.  If you are looking for an overview, this isn't it (Thanks, Johnna!).  One thing that I had to remember is that at this age, it isn't about mastery, but exposure.  Since we are a bit classical, she will likely see it all again.
In regards to the chem/physics book, my daughter LOVED the experiments.  If you've read my other reviews, you know that I'm a non-prep kind of mom.  I have approached this review the same way.  The only prep I do is to make sure I have the supplies for upcoming experiments.  The first chapter had a ton of food supplies.  If you buy the best food you can afford, I suggest you buy cheapest versions of the supplies you can find, to use for science.  This is not the place for a $10 bag of Real Salt or non-GMO cornstarch, ya know?  Generally, the experiments have been pretty simple to accomplish even with an infant.  My 5-1/2 year old even did a several of them completely on her own with just verbal instructions from me.
Summary
Overall, we both really liked Apologia.  It is pretty low prep and so far the supplies have been very easy to find.  It has many experiments to break up the reading.  The notebooking pages are a great way to review & retained what has been learned.  The supplies & experiments are easy to find & simple to do.  It's been a lot of fun & she loves that there are experiments EVERY day.
Click to read more reviews from the Schoolhouse Review Crew.