I really enjoy having supplemental learning materials where it doesn't feel like the kids are "doing school."  One of the things the girls really enjoy is reading magazines, so when the opportunity to review God's World News – Early Edition (Gr. 1-2) came up, I was pretty excited.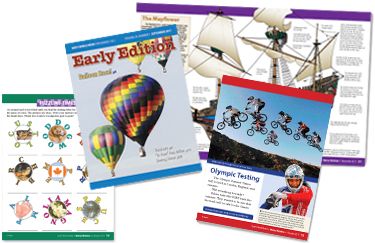 God's World News
God's World News publishes a monthly (except May & December) magazine for children in several different grade levels.  Each issue is written from a Christian POV and shares articles of news that encompass every subject imaginable.   For our review of the Early Edition magazine (for First-Second Grade), we received the October issue plus 2 back issues as well as the map.  In those 3 issues that we purused, I saw science, history, geography, nature, phys. ed, and more covered.
A year subscription of the magazine is $28.00 for a single copy of the home edition.  In addition to the print magazine, you get access to several digital extras:
A World Map poster (except the HS magazine) to view where each article took place.
A large collection of online biographies
Extended news lessons
Answer keys for the activities
An email newsletter including current and archived issues of the magazines, biographies and extended news lessons
A child version of the GWN website – http://kids.wng.org/
Likes & Dislikes
We really enjoyed using God's World News as a part of our day.  I originally thought I would use it in circle time, but it worked out better for us to intersperse it between books in our afternoon.  Every day, I've been reading an article and then we look at where it took place on the map and discuss it.
The October issue, for example, had an article on a woman her grandmothers age who swam from Cuba to Key West.  We talked about how long it took her to do it and that she didn't get to sleep.   I also told her that it was about the same distance as from our house to her other set of grandparents house and she SWAM that far.   She was also fascinated with the oldest man in the world who lived in Bolivia.  We found it on the map and then talked about all the things that happened in his lifetime and how he lived that may contribute to his long & high quality life.
The articles are really interesting & we've always found something to discuss.  It has about 20-30 short articles in the first grade edition.  You could pretty much sneak 5 minutes of cool findings & discussion in between read-aloud books and they'd never realize that they are learning.  It would provide a great jumping point for exposure to all sorts of interesting subjects I may not think to get to or mention.  There are so many interesting subjects!  Plus, it can help narrow her interest for me much better.  This works well for us because my first grader is very people-centric and this has a lot of news about everyday people doing extraordinary things.
Summary
Overall, both my daughter & I loved God's World News – Early Edition.  I liked the quick, no prep, Christian approach to current events.  I also loved that the stories were super short and were really great for starting discussions. It's nice to not have to feel like I'm lecturing all day :).  She finds many of them to be jaw-dropping.  Seriously, you could catch flies.  She sounds like she's 15 already the way she says, "what?" In that ohmygoshnoway tone of voice.  Yeah.
But she does like it and its fun for her to learn to use a map to find the locations of the news stories.  Fun stuff–learning with practical use and acknowledging our creator with bible verses peppered throughout, relating to the stories.  Did I mention that there was an article in the October issue about Catholic Churches in South America being robbed?  I was sad to hear it, but tickled that they included a piece about Catholic churches.
Click to read more reviews from the Schoolhouse Review Crew.