:

I have been searching for safety books for my both my daughters but specifically my nearly 3 year old who's a bit of a loose cannon.  When I was offered the opportunity to review Look Left, Look Right, Look Left Again, I was pretty excited.  When it arrived, so were my girls!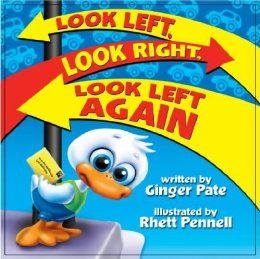 Look Left, Look Right
Look Left, Look Right, Look Left Again is a colorful, engaging board book from Greene Bark Press intended to teach children ages 3-8 about crossing the street & other street safety.  With the help of Wally Waddlewater and his mother, children learn how to cross the street as Wally tries to send a letter to his grandmother. This middle-sized (about 7in square) board book retails for $8.50.
Likes & Dislikes
My 3 year old adored this book!  She took it from me as soon as it arrived & plopped it on my lap the next time I sat down.  Then my 5 year old requested a re-read because she showed up in the middle.  I often found my 3 year old like this:
The rhyme for crossing was very catchy & easily memorized
Look left, look right
Make sure the cars are out of sight…
There's more, but I feel like I'd give the book away :).  My soon to be sister-in-law thought it was much catchier than the boring drill/nag they used at the preschool/daycare she works at.  We read it several times a week and since I've regained my strength, we often say the rhyme as we are getting ready to cross the street.
Summary
Over all, we all really enjoyed this book.  The story was just as good as the premise it was attempting to teach.  It was also so catchy that we are able to make use of it whenever we were out.  Plus, the girls just like hearing me say Wally Waddlewater :).
It opened up a great awareness of safety in general for my 3 year old as well.  A bit on the flighty side, she has become more inclined to listen to rules I have to keep them safe, thanks to the story of Wally Waddlewater.  I would recommend this to every parent–I wish I had this with my older daughter and will be buying one for my godson.
Click to read more reviews from the Schoolhouse Review Crew.