Disclaimer:  I received a free ticket to the expo in exchange for promotion of the event.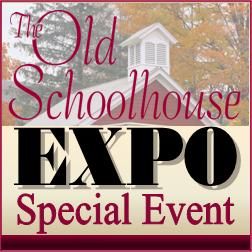 As a member of the Schoolhouse Review Crew, I am fortunate to be able to find out about and promote certain TOS events.   From August 19-23, This Old Schoolhouse is holding another Homeschool Expo.  I have attended several of these in the past and I'm looking forward to attending this one.
There are several speakers I'm interested in hearing including The Little House Legacy by Dean Butler (we have been reading these for about 6 months or so and are almost finished with them), The Lazy Student:  What's a Mom to Do? and Homeschooling During Times of Transition.
What looks interesting to you?  To view the scheduled speakers & register visit http://www.schoolhousefamily.com/product/august-schoolhouse-expo-ticket/.