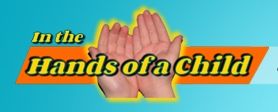 I've seen lots of lapbooks and in the beginning I didn't really see their point.  It seemed like just busy work to me.  Until I actually started doing school & realized that even my "worksheet lover" doesn't really like them.  When the opportunity to review a lapbook from In the Hands of a Child came up, I leapt at it.  Frankly, without deadlines, I'm not likely to finish anything.
Let's Measure It (K-3) Project Pack
In the Hands of a Child is a creator of children's lapbook & project packs for all ages about all subjects.   Our family received a copy of Let's Measure It, intended for K-3.  Intended as a one week unit study, the project pack includes all the printables, text & instructions necessary to study length, width, height, volume, time & distance.  In addition, they include optional activities, a schedule of what to read when and a list of additional books to buy/borrow.  The Let's Measure It project pack is $12.00 but as of the day this post was published, it was on sale for $5.00!
Likes & Dislikes
My daughter really enjoyed doing this project pack/lapbook.  She is 5-1/2 and so some of the lessons needed to be broken into 2 days just because she was unable to cut that much at once.  She LOVED being able to do something with her hands while she was listening to me read.  She also loved to figure out the different 'book' styles & glue them on the folder.  The only thing I did was read the pieces & help determine how to fit all the pieces on the folder.
While this project pack CAN stand on its own, if you were using it as a basis for your studies, I would go further in depth with the extra activities & book list.  If you are using it in addition to a full curriculum, there is plenty of information included.  I thought it might get repetitive but there were tons of booklet types & using colored copy paper would help, too.
Summary
Overall, we really enjoyed this project pack from In the Hands of a Child. It didn't require a ton of planning and she is now to the age where she is capable of doing much of it on her own.  The only supply I didn't have on hand was brads, which made the investment pretty low.  She loves to look at it and asked to do another one as soon as we finished.  I'd call that success!
Click to read more reviews from the Schoolhouse Review Crew.