Welcome to the first post of 5 Days of a Learning Lifestyle!   Most people I know who are lifetime learners happen to be voracious readers.  It IS the easiest way to gain new knowledge as an adult. Everywhere you look, you can find good books.  While everyone has an opinion on the best books to read, our approach to having good books around has been simple.
Books WE Love
Ever since hubby & I found out we were pregnant, we have been reading to babies in the womb.  And nothing light either.  I think we started with
Lord of the Rings
& went to
Raymond Feist
after that.
Books WE Want To Read
Until our kids are old enough to read for themselves & have freedom enough to find their own wish list of books, we have started a list/library of books that WE have always wanted to read.  In fact, we have not one, but 2 sets of Little House books because I scoured everywhere for one used & couldn't find it.  When it went on sale at amazon, I bought it.  A month later I found a whole set for $1 at a yard sale.  I bought it, too.  In addition to books we have loved, we have started a list of books we want to read so we can have them "on deck."
Other Lists
We have used other lists to build ours when we ran out of ideas or were looking for something new or about a particular topic.  Everyone has a book list!  If you are a Charlotte Mason style educator, she recommends Living Books.  Sonlight has book lists, TJEd has book lists, and every homeschool mom on the planet has resources they use and love. I also like
Reading To Know
&
Hope is the Word
's Read-Aloud Thursday for children's picture book recommendations.
Whenever I read about an interesting resource, I save it to an amazon wish list that I set up just for that purpose.  It has quite the eclectic mix of books on it now!
E-Books
If you don't have a Kindle, I would say its worth saving your
Swagbucks
for!   There are so many classics and other books free for
Amazon Kindle
that even the inexpensive one is worth a bookshelves weight in gold. Particularly, if you are low on book storage space.  Not only can you find e-books free on amazon, but you can read documents (PDF's) you send to it, as well.
Finding Books
E-book readers (like the
Kindle
) are fabulous–especially for books you will read aloud or for independent readers.   Plus, there are several ways to find free or inexpensive e-books:
Homeschool Freebie of the Day – shares great resources for homeschool & many of them are out if print books in PDF.  In addition they regularly offer collections of books on sale for $10-20 on a topic.  I have purchased 3 of them and love having them at my disposal!
Free Homeschool Deals – shares freebies of interest to any homeschool mom, including ones put out by your favorite bloggers for a limited time on everything from bible studies to homemaking.
Bundle Sales – The best way to buy e-books put out by bloggers is to buy e-book bundles.   Over the last year or so I have promoted a couple of rather large e-book bundle sales (Healthy Living, Ultimate Homemaking & Natural Mothering) and those are my favorite as far as value goes.  You can also purchase weekly themed bundles from Bundle of the Week — for $7.40 you can get 5 e-books all related to a particular theme and it changes every week.  I have purchased several of these.
Garage Sales – Garage sales, yard sales, church sales, estate sales, however you want to label it, these are some of the greatest ways to buy physical books for cheap.   And the estate sales have some gems that you may never find or see anywhere else.
Library Book Sales – Library sales are also great places.  Not only do they get rid of seldom used library books to make room for new ones but typically, those are among the better books there :).  They also get lots of donations from retired teachers and other people who like to support the library.   I have found some of our FAVORITE book sets from library sales including a set of Childcraft Encyclopedias and the Disney Fun to Learn Library, both for about $10 each!
Thrift Stores & Swaps – I have gotten some great books (and even curriculum!) at resale shops like Goodwill, Salvation Army, St. Vincent dePaul, and others.   You can also try local swaps and sales like a Mom to Mom sale (where they typically have clothing, toys and books) or the local homeschool organization swap.  There are online homeschool sales/swaps, too.
Craigslist – While I don't find a ton of books on Craigslist, I do tend to find sets and more expensive books/curriculum online there.  It's worth checking out ocassionally!
This post is one in a series — Click here to see all 5 Days of A Learning Lifestyle posts!
Where are your favorite places to find books?   How many do you have?
This post is a part of the 5 Days…Blog Hop with the Schoolhouse Review Crew — click the banner below to see more great series!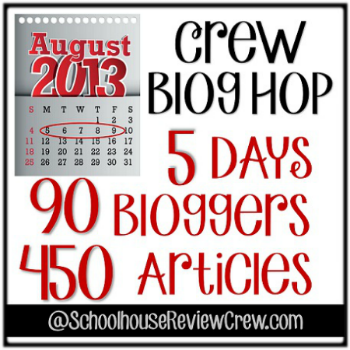 Disclaimer:  This post contains affiliate and referral links.  Thanks for your support of this site!