Disclaimer: I received a copy of this product for free through the Schoolhouse Review Crew in exchange for my honest review. I was not required to write a positive review nor was I compensated any other way. All opinions I have expressed are my own or those of my family. I am disclosing this in accordance with FTC regulations.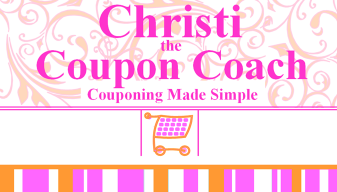 I have been an off-and-on couponer for years depending on our season of life.  The last few months I have completely blown our food/grocery budget out of the water trying to make sure that I didn't need to do any major shopping for as long as possible.  Since we are in that newborn, relaxing-normal-standards stage, couponing becomes a bit easier as well.  Needless, to say, I was in need of a refresher and so having the opportunity to review Couponing Made Simple through the Schoolhouse Review Crew came at the perfect time.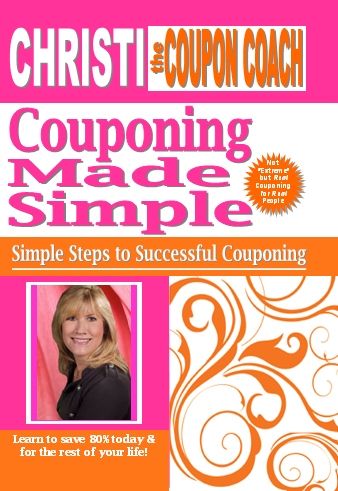 Couponing Made Simple
Couponing Made Simple is a 64-page E-book by Christi the Coupon Coach filled everything you need to know about traditional couponing, as well as tips and tricks for saving money at the grocery store & beyond.  Chapters include how to shop, the language of couponing (terminology), how to organize coupons, the process for making the most of your coupons, tips, ethics and more.  Couponing Made Simple retails for $18.00 as a paperback book and is available for just $4.99 on Kindle!
Likes & Dislikes
There were several things I liked about this e-book.  First, were the tips on how to get coupons and how to judge how many to get.  No one had ever suggested an amount before.  I printed that whole section out.  The other section i really enjoyed was tips on how to save even without coupons.  I printed that one, too.  Nothing that I didn't already know (or couldn't figure out) but good to have them all in one spot & be reminded of them.  Regularly.
One of the things I thought was missing was alternate/techy ways to save.  A section on phone apps, common store programs, links to sites with coupon match ups by area, and such would have been really useful.  Also, since the title didn't specifically mention just groceries, a section on saving on other things (books, clothes, etc) could have been super useful, too.
Couponing Results
With a newborn & a slower recovery than I would have liked (but about what I expected), I managed to get the following deals by remembering to buy on sale/clearance & combine and stack coupons & rewards programs where possible:
Carter's – clearance pricing on many items, plus 40% coupon on regular priced merchandise, plus cash back from shopathome.com.  $354 of baby clothes for $171.62.  Almost 1/2 off, which was awesome since we don't peek & I didn't have summer clothes even for a girl.  Could I have done better?  Sure, but this was good enough for 2 days after delivery while lying in bed!
Children's Place – bike shorts for girls & accessories for boy.  Spent $47.70.  All items were on clearance, plus I had a 20% off coupon, plus cash back from shopathome.com, PLUS points on their rewards program.  Original price was $106.  Again, about 1/2 off.  Good enough for me right now!
I saw other deals that I couldn't take advantage of due to either not having the right coupons because I hadn't started to collect them yet.  On the flipside, I had the right coupons but was still recovering in bed.   It DOES take some time to collect the coupons to have them get you the best deals — about 2 months, generally, and I had a baby smack dab in the middle of that :(.   I was actually expecting him to come earlier…
Summary
Overall, I found this book to be pretty useful.  It provides the basics for beginners as well as providing new tips for intermediate couponers. I got some tips that I hadn't thought of or remembered from before.
The thing that I think I most got out of it, though, was the reminder to DO it.  To make the small effort to get the coupon or remember to look for the discount.  I set up a filter for Store Coupons in gmail & sign up for every mailing list for every store & brand I love.  When I need something,  I just go into the folder & check for deals & coupons.
Also, I continue to subscribe to my grocery/deal blogs, keeping an eye on pharmacy coupon deals.  Even though every deal might not be right for MY family, the health & beauty products that can be gotten for practically nothing go a long way in providing some dignity to those who need to visit food pantries.
Click to read more reviews from the Schoolhouse Review Crew.