My daughter is a perfectly capable reader.  But she's resistant.  She can do it fine when we are working through our reading curriculum.  She can even spell.  But she has a tendency to get overwhelmed when looking at pages full of words.  When we had the opportunity to review an iPad/iPhone app from LiteracySoft, I thought it would be a great opportunity to take a little break from our phonics curriculum and let her get more comfortable reading in smaller chunks.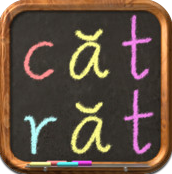 Phonics and Reading with McGuffey
We received a copy of the Phonics and Reading with McGuffey app for iPad/iPhone.  Since we don't have an iPad, my daughter used the app on my iPhone and it worked just fine.  There are 52 lessons, all designed to get your child reading on a first grade level.   Each lesson has 10-15 parts covering things like:
sound introduction
new words with the sounds are introduced
letter sound drills
letter sound blending
aided reading practice
new letter sounds are quized
guided spelling
sight word drills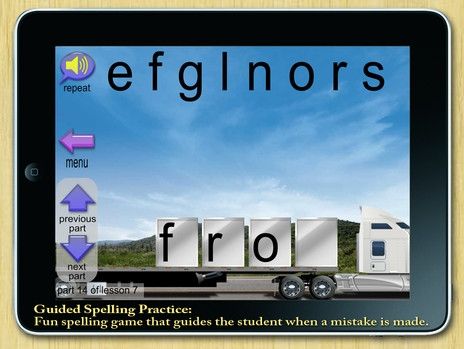 The app retails for $19.99 and is intended for non-readers of all ages, including adults.
Likes & Dislikes
My daughter really liked this app.  While I was doing school with her sister she cruised through the first 33 lessons in the first 4 days.  Then I realized that she couldn't possibly be actually DOING the lessons :).   Over the past month or so, we have been working through about 1/2 a lesson a day to keep her from getting overly frustrated.
There are certain parts she likes better than others.  She could spend hours playing with the phonics experimentation and making words.  Even if she doesn't make full words, she gets great joy out of making syllables or parts of words and then telling me words that has that sound in it.
She's not terribly fond of playing doing the sight words but likes the spelling train.   We are up to lesson 14 and it's starting to get a little difficult as the words get longer.
I like the variety of activities and how the app provides familiarity with the pronunciation symbols that you would find in a dictionary.   I also like the explanation of how to pronounce certain sounds – such as when there is a double-l at the end of the word, it's pronounced as a single L.  That is very useful for being able to take the things she's learning and read words she finds in other places.
Summary
Overall, I really like this app and we will continue to use it on a daily basis in addition to our existing phonics curriculum and probably in place of it for a little while after the baby comes.  It complements it very well and will prevent the knowledge from leaving her while we are in transition.
If you have a child who learns best visually or on iPad/iPhone apps, this would be a great alternative to traditional phonics/learn to read programs.  I would probably wait until the child is VERY ready to read.  While some programs lend themselves to an early start (ages 3-5), I probably wouldn't start this until 5 or 6 since it moves along quite quickly.  It would probably be a good way to help older children who aren't as fluent as they would like, too.

Do you use your iPad/iPhone to help your children learn?