Lil' Bit really enjoys doing school and we had been working through MCP Math at the rate of several sheets a day.  Until we hit a brick wall.   She's been having trouble with learning numbers from 10 to 20 by sight.   Tired of skipping Math due to this issue, I was happy to see the opportunity to review TouchMath come up.  I was REALLY excited when I read what each unit covered because it covered everything that our current one did, but presented and worked up to in a way that seemed like she'd be able to handle — and enjoy!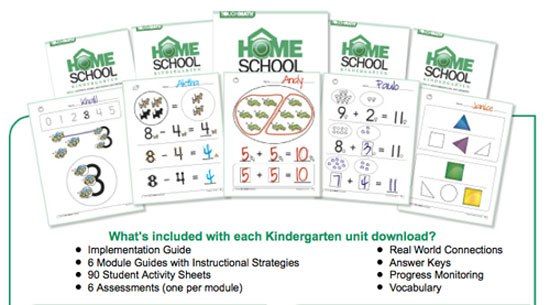 TouchMath Kindergarten
TouchMath Kindergarten is broken up into 4 units which can be purchased individually or all together (at a discount).   The curriculum is download only and the pages are mostly black and white, which is great.  The worksheets are not super shaded making them pretty cheap to print and the teacher's manual pages are few in number making it an economical curriculum to print yourself.
It is a very worksheet intensive curriculum but it works really well with additional manipulatives.  The teacher's manual includes step by step how to "teach" each page and some of them are independent study for the student and some need to be guided by the parent/teacher.   There are no instructions written on any worksheet.    We received the Touchmath Kindergarten curriculum plus 3 of the extra manipulatives — the 3D Numerals, the Touch Shapes and the TouchMath Kindergarten Software.    The curriculum itself was $199.95 and the manipulatives were $208.00 for all three.    The manipulatives are NOT essential but if you have a very hands-on child, you will find them extremely useful.
Likes & Dislikes
My daughter really likes the TouchMath program.    She really gained some confidence through learning the numbers 0-100 when she realized that she knew a lot more than she thought and also had an easy time skip counting by 10.  She still has some trouble with the numbers from 10-20, but she is able to move on to addition, subtraction, and greater than/less than, which tickles her to no end.
She is one of those children who is very hands on and so the manipulatives have been awesome!    She never lets me fail to get them out or skip them and both her and her two year old sister adore playing the Touchmath Kindergarten games that were included with the software.   I also like the touch dot method for adding; I must admit that I figured out doing something similar when I was in school and still use it on occasion :).  Having a formal method for it, is really helpful.
Summary
Overall, I really like the TouchMath curriculum for Kindergarten.   It's pretty easy and the worksheets are super easy and have 2-3 problems each, making it really easy to ease the child into formal schoolwork if they aren't ready or have attention issues.    The manipulatives are really helpful for this as well.
We will absolutely continue to use this through the end of the year because it really seems to work the way my daughter thinks.  I don't think we've used it enough for me to decide whether or not we will use it again next year, though, because we are rethinking our homeschool methods.   Decisions, decisions :).