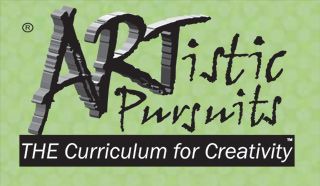 While I am by NO means an artist, I did take art in 9th grade and really enjoyed it.   I found that if I spent a TON of time, I could copy a picture fairly well and I liked to do it.  We also studied artists and I loved that I was able to go to a museum and see the originals that I learned about and recognized artists and styles.
That being said, I went looking for art and art appreciation curriculum and found that many people loved ARTistic Pursuits.   I had planned to purchase a copy and add it in the winter semester when we were in a groove with our homeschooling.   When I got picked for the crew and found that it was one of the first offerings of the year, I was ecstatic!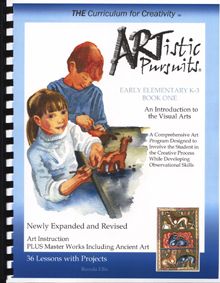 ARTistic Pursuits Early Elementary  Book 1
ARTistic Pursuits is an art curriculum that includes art appreciation for Preschool through high school age students.   There is one book for preschool age and 3 for early elementary, and 2 each for upper elementary, middle school and high school.    With about 33 lessons, this book provides enough material to do art class about once a week for an entire school year.
The book I received, Early Elementary K-3 Book One: An Introduction to the Visual Arts, is laid out in 3 main sections.  First is what artists see, introducing the child to things like imagining a scene, telling a story through pictures and outlining shapes.   The second is what artists see, showing the child things like texture and color and the last is where art is found and the types of art found there.  
Each lesson feels very much like a Charlotte Mason lesson.  It's very short and digestible and can take as much or as little time as delights the learner.   We spend about 5-10 minutes to go through each 3 page lesson.  The first page tells about the topic for the week.  The second is an art appreciation/art study where it tells about a painting & artist and then leads the student through noticing things about it.   The last page is a little bit about technique with an actual picture made by a student as an example.   The ARTistic Pursuits book that I received retails for $47.95.
Likes and Dislikes
My 5 year old ADORES this book.  It is her favorite class and she asks every. single. day if it is art day.   She loves using the fancy art supplies that she doesn't get to use every day and I think she even likes looking at the art.
I like this book for several reasons.  First, it provides both art in the application sense AND in the art appreciation sense.    It is super quick and is designed to be done once a week so we don't leave it out for lack of time even in super busy weeks.   It requires VERY little preparation on my part.  In fact, other than the initial purchase of art supplies, I don't prepare at all.
When they shipped our books, they did not have an art supplies pack for the new 3rd edition yet so I bought my supplies off of amazon using their recommended supply list.  They probably could have been found cheaper using JoAnn & Michael's 40% off coupons, but even so I only spent $45 for all the supplies I needed for the year.  I had a few things left from high school (no I don't throw things out), but I also bought bigger sets than needed of some things (like the chalk pastels, because I will do those projects, too :D).
Summary
Overall, I LOVED this curriculum.   We will absolutely be continuing to use it and I will probably use it indefinitely.   It would be great for anyone whose children are not really interested in art since the lessons are very short and they can take as much or as little time as desired on the art project.    For someone who LOVES art, this would be a good starting point for their free study/drawing for the week.   It's a great art curriculum for parents who feel that's it's an important subject to know, but aren't really interested in it much themselves, too.   Basically, I think everyone could benefit from it :).