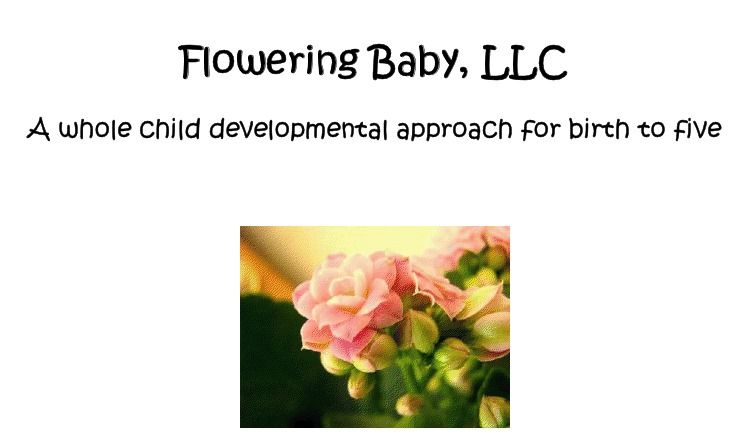 I am being SO blessed by being part of the Schoolhouse Review Crew this year.    Last month, Flowering Baby send me an electronic download copy of their Birth to Age 5 curriculum.   I was pretty excited about receiving it because I've had tot school and preschool curriculum before but they never really fit our family.   I was able to test their Two to Three year old tot school curriculum with my youngest daughter, Itty Bitty.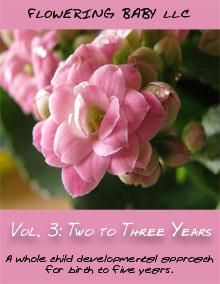 Flowering Baby, Two to Three Years
Written by a mother for her sons, the Flowering Baby curriculum for age 2-3 teaches various items using household items, commonly used toys and standard home office/school supplies for small children.    A list of supplies and books are provided for the year.  In addition, each month includes a list of supplies and books used for that month.    The curriculum has about 10 activities per day and there is enough to keep your little one busy about 5 days a week.
According to the publisher, by age 3 your little one will know 8 shapes, 10 colors, the alphabet, and be able to count to 10.   And none of that includes exposure to dozens of books, songs, types of music, nursery rhymes, games, and other miscellaneous knowledge!   This particular volume of the curriculum costs $30.00.   For a limited time, you can get a 10% discount by using code "Blog10" at checkout at FloweringBaby.com.
Likes and Dislikes
The Flowering Baby curriculum for ages 2-3 is divided by month of age (i.e. 27 months) as opposed to having it divided by month of the year with appropriate themes, like Pumpkins in October and such.   I really like that approach because it's developmentally appropriate and you don't have to switch a bunch of things around to make it work if you start at an odd time.
While the book does include a list of books and supplies needed, the thing that I loved about the supply lists in this curriculum is that none of it is strictly necessary.  It doesn't build around a book, for example, so it's easy to pick a different book or use a different, but similar manipulative that you may have at your disposal.  For instance, we no longer own "Click, Clack, Moo" and substituted "Chicka Chicka Boom Boom" instead.  No other activities were dependent on the book choice so there was no issue caused with the substitution.
I also love that she includes such a wide variety and large number of activities per day.    There are 10 activities or so and they are all independent of each other.   You can do all, or just what your child is in the mood for.   Many times we made do with what we had around, skipped things on an off day, or slightly modified the activity (like using French instead of Spanish).   Even on days where we did everything, it only took about 10-20 minutes.    A lot of days include activities that help get wiggles out and I usually save those for last since my older daughter (age 5) likes to join in.   Those days go a little longer since I let them go until they are tired of it :).
It's really been quite accurate on being developmentally appropriate for my 27 month old daughter and in addition to all the other things that I have loved about it, it reminds me to do things like teach her my name and my hubby's name.   She has really enjoyed doing it and even asks to "do school" everyday and she will run and grab her bible (not included in the plans but we start with it) and snuggle up on the couch while we read, do songs/nursery rhymes.
We were given all 5 years of the curriculum in exchange for the review and since I am expecting again, I was curious what a Birth to Age 1 curriculum would look like.  It was pretty laid back — one or two things a day that are things most parents probably instinctively do anyway and some interesting things I wouldn't think to intentionally do, like rub baby's feet.   I wish my older daughter could read because I think it would be a really great place to get ideas for other children to interact with a new baby as well.
Summary
Overall, I LOVED this curriculum.   I've tried other tot school and very early learning curriculum and they were all WAY too much work.    This was so easy to do because the books were not the core of all the other activities.  It included lots of moving and manipulation activities as well as some basic knowledge and safety activities.  Every activity was enjoyable to my 2 year old and most of the time my 5 year old wanted to participate too.   My youngest loves the little bit of one-on-one time and it works great for us as a way to engage Itty Bitty before Lil' Bit starts HER school work.   I will definitely continue to use this curriculum through the rest of the year.

This post is linked up to the Ultimate Homeschool Linkup @ The Homeschool Village.
Disclaimer:  I received a copy of the complete Birth – Age 5 curriculum in exchange for an honest review as part of the Schoolhouse Review Crew.  No other compensation was received and all opinions are my own.