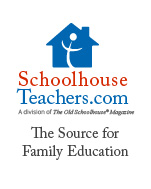 So last week, I had mentioned that I am now on the Homeschool Review Crew.   For our first "dry run" review, we got access to The Old Schoolhouse Magazine's subscription website:  http://www.SchoolhouseTeachers.com.
I have to admit, when they first gave us access, I doubted its usefulness to our family.   My almost 5 year daughter is doing a lot of Kindergarten work in the basics (phonics & math) and 1st grade work in extra stuff — history, science, etc.   The first time I started digging through, I went straight to the PreK/Elementary section and the work seemed to be a little over her head.   Granted, I was looking at electives like French and Writing.  However, I did find a little bit of math that I thought she could do.
Then a few visits later, I stumbled into the Dailies section.  That had SEVERAL sections that I want to start yesterday.  My favorite so far is the Elementary Spelling.   Why spell when she can't (won't!) read?   She loves to write letters and notes.   And these are really very simple.
The very first lesson, for instance, starts with "at" and 4 other words that end with at.   I was really excited about that because she can read "at" if she wants to, and having the ability to write words on her own would be useful to her and cements in the recognition of the word/combo so that she doesn't have to think so hard about it.   I'm excited to work with those materials because SHE is enjoying them, too!  I'm also looking forward to adding in Simply Shakespeare and Everyday Astronomy.

SchoolhouseTeachers.com has materials in many subjects, both the basics and extras for PreK/Elementary, Middle School and High School students.  There are several sections that have daily lessons (called Dailies) for spelling and geography, as well as several other subjects in many different levels.   The part that gives this site the best value, in my opinion, are all the extras.
For every month that you are a member, you can download a whole pile of TOS e-books like WeE-book™-Following The Iditarod (which caught my eye because we have a sled dog team in the neighborhood and they were practicing this morning on a wheeled sled!) or Schoolhouse Thematic Unit-Adventures in Reading.   It also has another free monthly e-book and electronic issues of TOS Magazine, Schoolhouse Expo talks and the BIGGEST perk of them all — access to every TOS Planner made (after 9 months of monthly use or a pd 12 month subscription).   As far as I'm concerned, these extras are well worth the $5.95 a month cost (or $64.26 per year).  Even if life/school gets busy and you don't get to use the regular materials, the bonuses are well worth the price!
If you are schooling on a budget or like to work without tons of books (like road warriors, perhaps?), this would be a great option.  It includes tons of materials for all levels of work and could have just the thing to supplement or even take place of existing materials that aren't working with your child's style.

Disclaimer: I received a free subscription to this site for being a part of the Homeschool Crew and to help facilitate an honest review of the site. No other compensation was received.