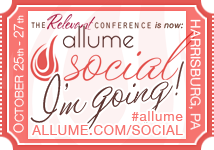 I'm completely stoked to be going to #allume Social (formerly Relevent) in Harrisburg, PA from October 25-27, 2012.   My daughter will be turning 2 the day my family drives over and I'm excited to be attending my first blog conference.  I can't wait to see what God has in store for me, but I can't get there on my own!

About Allume Social:
The Allume Social conference exists to offer a gathering place for kindred spirits to connect, learn, grow, and be refreshed so they can persevere in being a people who bring hope to the world through the social media medium. Our goal is to go beyond the surface into intentional blogging and real life living, all to the glory of God. Allume Social is a one-of-a-kind conference that seeks to engage women by teaching blogging techniques and social media skill while also urging and encouraging women to live fully integrated lives with their faith and family.
The costs:
$250 – conference ticket (includes Admission, Access to all sessions and keynotes, Breakfast, Lunch, Dinner, and Snacks Thursday (dinner only), Friday and Saturday)
$350 – travel (driving)
$600 – hotel
$300 – incidentals
I estimate that I will need at least $1200 – $1500 to get there.   In order to help cover some expenses, I have put together several sponsorship packages for Allume Social 2012, which you can view at the #allume tab.
If you would like to have a presence at #allume social and those options don't quite fit or you want more information about Happy Little Homemaker or myself, please email me at jen (at) happylittlehomemaker (dot) com.
God Bless!