This was originally posted on another blog of mine (Happy Homemaker Reviews).   I consolidated them to continue to simplify my life.   – Jen  (04.2012)
*~*~*~*~*~*~*~*~*~
In the past, I was a heavy duty coupon clipper.  I bought multiple copies of inserts, drove my family nuts to get the Sunday paper, drove from store to store to store…well, you get the idea.   But I gave it up; frankly, I'd rather blog or mystery shop.  Especially when I came back to Michigan and the deals were harder to come by.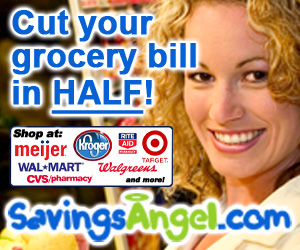 Recently I was given the opportunity to get a free trial of a coupon matching service I had never heard of before — SavingsAngel.com.   I've tried several sites like it before but they never had my local stores in it (like Glen's or Meijer) and so unless I wanted to know about Rite Aid or Wags, I was S. O. L.   This site is way better than any other site I've ever been to!  Not only can I get sale information for stores I actually use, but they have great extra features.
For instance:
You can compare multiple stores for best deals.
You can make personalized shopping lists and sort them in all kinds of ways and even move individual items around.
You can get a list of all the coupons you need, sorted by insert AND they put all the printable coupon links in one place.
Those reasons right there are enough to keep my sanity while saving money.  If you are just starting out, SavingsAngel not only gives you the basics of couponing, but there are video tutorials on how to use all the features, forums for sharing deals and you can get a mentor!   They have a cool meal plan feature in the forums as well.   Worth a look, for sure.
Buy It
You can purchase a membership at SavingsAngel for approximately $19.95 a month in various types of plans (weekly, monthly, etc.).
If you've been spending hours on your coupon plan, this will easily reduce your time and point out things you may have missed without clogging up your RSS feeds with deal blog posts.  Check it out today!
Disclaimer – This post contains affiliate links.